CME Team
CME has a dedicated team of professionals working to deliver results for members and the sector.
Click on the links below to find out more about each team member. A copy of our organisational structure is available here. You can email any member of our staff using chamber@cmewa.com
Content Editor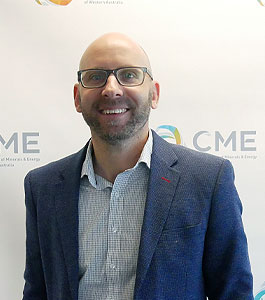 Simon White
Content Editor
Simon White joined CME in August 2020 as Content Editor, writing for a range of publications including the resourc.ly website, and also taking on media engagement activities.
Prior to joining CME, Simon spent two years with leading Perth-based strategic communications consultancy Cannings Purple, managing an award-winning content hub and producing a wide variety of digital content for clients.
A former digital editor of both thewest.com.au and WAtoday, Simon started out his career as a cadet at the Kalgoorlie Miner in 2002 and has split his time since across public relations and journalism roles – including stints at the Brisbane Lions, Queensland's Department of Main Roads, the Adelaide Advertiser and Curtin University.
Away from the office, Simon enjoys watching good golf, playing not-so-good golf, and supporting the Fremantle Dockers.