COVID-19 latest updates from CME
Last updated 11.55 AM Friday 3rd April
Australian Update
The total number of confirmed COVID-19 cases in Australia now stands at 5315.
As of Friday morning there were 2389 in NSW, 1085 in Victoria, 873 in Queensland, 385 in South Australia, 400 in Western Australia, 74 in Tasmania, 87 in the Australian Capital Territory and 22 in the Northern Territory.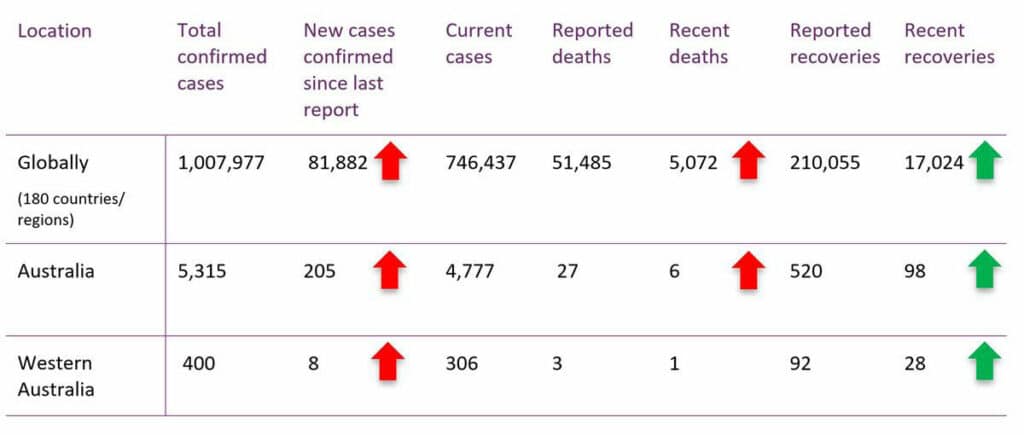 Australia's death toll from the coronavirus has risen to 27, after two deaths interstate, plus the death of a passenger from the stricken Artania cruise ship who had been receiving treatment at Joondalup Health Campus.
The PM has flagged this morning that social restrictions around the country "could be longer" than six months. "It could be longer – I'm trying to prepare the country for the long haul," he told media. "We need to ensure people can do this for that long. We don't want people to get frustrated, but it is going to be tough.
—
Around 16,000 Australian citizens still chose to fly overseas between March 19 and March 30 despite being directed to not travel.
Of these, 3800 left the country after the official travel ban came into force on March 24. These people required a government exemption for a purpose such as work or compassionate grounds.
—
Queensland enforces hard border closure
Queensland border restrictions will be tightened across the state from today to prevent the spread of COVID-19. Anyone who is not a Queensland resident or considered exempt from the restrictions will not be able to enter Queensland from 12.01am Friday, April 3, 2020.
The restrictions do not apply to residents of Queensland or those with an exemption. Freight transport services are exempt and will be allowed through without a border pass permit.
The restrictions will replace the current arrangements which enable people to cross the border provided they self-quarantine for 14 days.
—
New bans for Victoria
Victorians will be able to exercise outdoors during the weekend, but a new ban on some activities has been issued. Fishing, hunting, boating, camping, and golf will not be allowed during the pandemic.
WA Update
Closure of the WA border
WA will move to introduce a temporary hard border closure effective from midnight, or 11.59pm, on Sunday 5 April 2020.
A number of specific exemptions will be implemented to ensure the State can continue to operate and function.
The exemptions are currently being finalised, but they will include people who perform work functions including:
Health services
Emergency service workers
Transport, freight and logistics
Specialists skills, not available in WA,
National or State security and governance, and
Courts and judicial services;
There will also be exemptions for FIFO workers and their families, however strict 14-day self-isolation measures will need to be followed, when they first enter the State.
Further exemptions will also apply on specific compassionate grounds.
Access the INDIVIDUAL TRAVEL DECLARATION FOR COVID-19 form here.
—
Additional travel restrictions implemented for the Kimberley
On 2 April 2020, Premier Mark McGowan announced that additional travel restrictions would come in to force for the Kimberley region to restrict travel not just at a regional level, but to each specific Local Government Authority (Shire). The new measures were introduced in response to confirmation of a number of positive COVID-19 cases in the region this week. All confirmed cases are currently self-isolating with contact tracing underway to determine the source of the infection, and to identify and isolate close contacts, as per the national guidelines.
The new travel restrictions took effect at 11:59PM on the same day and hence are now in force. To enact the new travel restrictions, Commissioner Chris Dawson has issued the Prohibition on Travel between Local Government Districts in the Kimberley Directions under Section 67 of the Emergency Management Act 2005.
These new travel restrictions effectively implement the same regime in place across WA at the Regional Development Commission regional boundary level, but use Shire boundaries instead to divide the Kimberley in to four different areas:
Shire of Broome
Shire of Derby – West Kimberley
Shire of Halls Creek
Shire of Wyndham – East Kimberley
Travel across these Shire boundaries is prohibited unless the purpose is for a listed exemption. Members in the Kimberley that need to cross Shire boundaries must now ensure they meet relevant exemption criteria for any travel across Shire boundaries and if yes, must ensure relevant documentation and identification is on hand at all Shire border checks and upon request by any of the roaming WA Police patrols.
The new travel restrictions for the four Kimberley Shires are additional to those already in place for the Kimberley through both the Prohibition on Regional Travel Directions and the Biosecurity (Human Biosecurity Emergency) (Human Coronavirus with Pandemic Potential) (Emergency Requirements for Remote Communities) Determination 2020.
—
Emergency Accommodation Options
The WA Department of Finance (DoF) is coordinating the identification of emergency accommodation for COVID-19 within Western Australia.
DoF would like to hear from organisations who have capacity to accommodate those who need emergency accommodation.
This request covers:
Unoccupied camps that would be wholly available to government;
Any subsections of occupied camps where these subsections can be reasonably quarantined / segregated off (eg: say someone has 1,000 person camp with two messes and has also dropped down their operational workforce so can effectively quarantine off say 200 room and a mess and move all their personnel if needed to the other section);
Contractor, construction or fly camps that are separate; or
Unused dongas which would be available for the Government to use or move to somewhere appropriate.
If your organisation can offer any of the above, please complete the form here.
—
Definitions – Quarantine vs Isolation
Please find below definitions of 'quarantine' and 'self-isolation'.
Quarantine
You are at risk of having the COVID-19 infection, but not actually known to be infected. You may or may not end up with it
You are asked to wait it out in isolation until 14 days have passed if you remain well. If you become unwell during the 14 days, testing is done and if positive you move into isolation phase (or into hospital if very unwell)
Self-Isolation
You have tested positive for COVID-19
You can come out of self-isolation if all of the following apply

more than seven days since you became unwell
at least two days with no fever
at least one day of feeling better/having no symptoms
two tests 24 hours apart that are both negative
Further information available here.
International Update
More than a million cases of coronavirus have been registered globally, as the world struggles to handle the spreading COVID-19 pandemic. While one million cases have been officially confirmed, the figure is believed to be much higher.
More than 51,000 people have died and more than 208,000 have recovered around the world.
The US now accounts for the most cases, with more than 232,837 cases being confirmed and more than 5,550 people dying nationwide.
Italy has the world's highest death toll, with 13,155 people dying. Spain is behind that with more than 10,000 deaths. Spain recorded 950 deaths overnight – believed to be the highest number of deaths of any country in one day.
Spain has also lost nearly 900,000 jobs. An estimated nine in 10 Americans are under stay-at-home orders, and a record-breaking 10 million people in the country have filed for unemployment benefits in the last two weeks.
—
Experts are warning that Africa faces an existential threat from coronavirus with cases set to explode and few ventilators available.
Some African countries will have more than 10,000 coronavirus cases by the end of April, health officials projected with an "enormous gap" in ventilators and other critical items.
All but five of Africa's 54 countries have cases, and local transmission has begun in many of those, as governments look into procuring ventilators.
Some countries have only a few ventilators. Central African Republic has just three.
—
The US Democrats have pushed back the date to nominate the party's candidate who will challenge Donald Trump in November – in the first sign that the presidential election could be affected by the coronavirus pandemic.
The democratic national convention has been postponed until August 17, five weeks after the gathering was originally scheduled for July 13-16.
The decision came after the party's likely nominee, Joe Biden, said the convention would likely need to be delayed to allow for a greater chance of holding a safe in-person gathering.
COVID WA Helpline: 1800 020 080
| | |
| --- | --- |
| | Resource sector companies can request further information by emailing us chamber@cmewa.com Please note, this is for resource sector companies only. Further travel information can be found here. |
For the latest official updates on COVID-19 please visit https://www.australia.gov.au/ and https://www.health.gov.au
For information on mental health support please visit https://www.lifeline.org.au/ or call 13 43 57