COVID-19 latest updates from CME
Last updated – 13.25 PM, Friday 29th May
Australian Update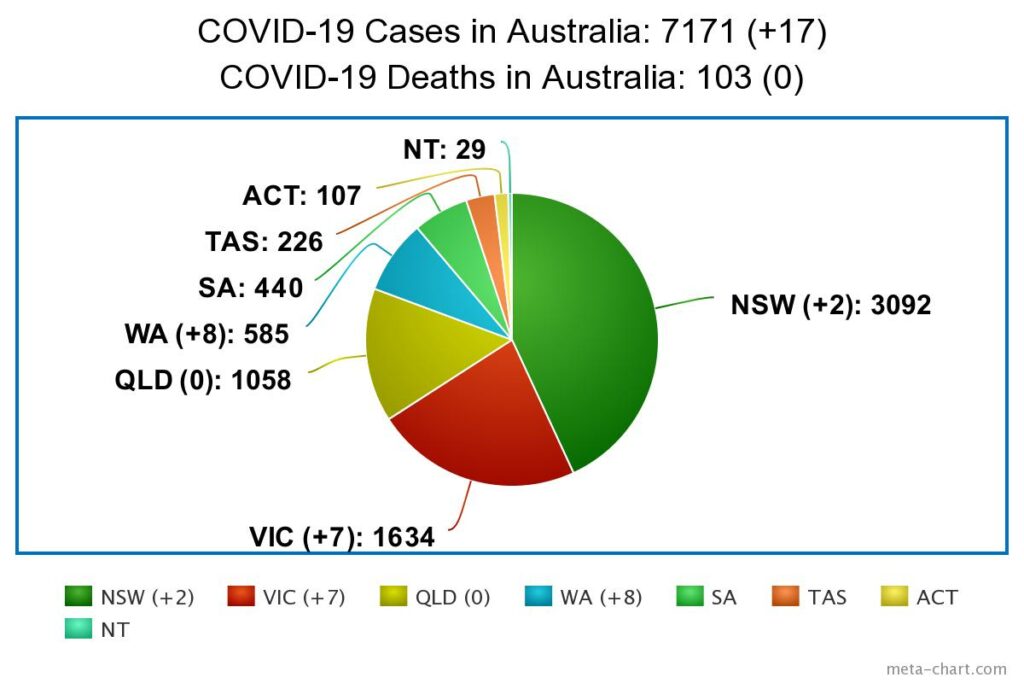 Australia has recorded a total 7171 cases of COVID-19, with 3090 in New South Wales, 1634 in Victoria, 1058 in Queensland, 440 in South Australia, 585 in Western Australia, 226 in Tasmania, 107 in the Australian Capital Territory and 29 in the Northern Territory.
Every afternoon, the Federal Government publishes daily updates, including current cases by each state (please note, these stats are not as current as the ones published in the above table).
National Cabinet
The National Cabinet met today to review Australia's progress in slowing the spread of COVID-19 and discuss whether more restrictions can be eased. The Prime Minister Scott Morrison held a press conference following the meeting – here are the key points:
"We're on track, and we're making progress," he said.
"The three-step plan that I outlined several weeks ago is now very much an implementation as you can see from the chart, which we reviewed today that step one is done in all states and territories.
"Moving to step two in most in a few weeks' time in June."
Current risks of COVID-19
Scott Morrison has refuted any suggestion the pandemic is over in Australia:
"What are the expectations? Are our expectations of zero cases? No.
That has never been our expectation, nor our goal. Eradication? Elimination?
These are not the goals that we have.
If it's achieved as a by-product then well and good. But the fact that a case or a group of cases may present is not something that should restrict moving ahead and getting progress on implementing the three-step plan and bringing Australia's economy back to a COVID-safe environment in which jobs can be restored and livelihoods can be restored.
The second point I'd make is this: that is the risk remains great and always has been. Australia's success can lead some to think that perhaps the risk was never there in the first place? But that is not true.
We only need to look at countries as sophisticated as ours, as developed as ours, with health systems as strong as ours, who have death rates 100 times of what has occurred in Australia.
So, we would be foolish to think that we were immune or that we are immune.
And as a result, the three-step plan, keeping the balance between the health management of the crisis and the economic management of the crisis in balance, continues to be the balance that the National Cabinet seeks to achieve and I believe is achieving."
More funding for hospitals
Mr Morrison reveals National Cabinet has developed a five-year hospitals agreement between the states and territories, including $131.4 billion in additional public hospital funding
The 20-25 national health reform agreement for hospitals will provide an additional $34.4 billion in federal funding to public hospitals from July 1 this year, in addition to over $8 billion in federal funding during the COVID-19 response.
COAG is no more
Mr Morrison announced the Council of Australian Governments (COAG) system will be scrapped in favour of a National Cabinet-style system which will meet monthly outside of the COVID-19 pandemic.
"COAG is no more. It will be replaced by a completely new system and that new system is focused on the success that has been yielded by the operation of the National Cabinet."
The National Cabinet will meet monthly in normal circumstances but continue to meet fortnightly during the coronavirus outbreak.
Mr Morrison said the National Cabinet "will be driven by a singular agenda, and that is to create jobs."
The PM said national cabinet will meet, face to face, twice a year. The rest of the 10 meetings will be over teleconference.
"It is a much more flexible way of working," says Scott Morrison.
"One of the things we've learned from meeting so regularly we can work effectively together with the telemeeting facilities meaning those Premiers in a remote state has managed it on a good basis and it has worked incredibly well. We will continue to meet on a monthly basis in a normal year and a fortnightly basis during coronavirus."
State borders should open 'as soon as possible'
PM Morrison says leisure-based interstate travel isn't expected until stage three of the easing of restrictions, due for July.
But he says he wants borders to open "as soon as possible".
"Whether you have a border or you don't have a border, formally put in place, step three of the plan, which was expected to be in place in July, is when that was expected to be the case.
"Now, I note that all states and territories are working towards that, whether they have borders or not. But the truth is, and I'm sure, and this was discussed today, that it's preferable to be able to be in a situation where you don't have borders as soon as possible because
"Obviously, that means that the tourism industries in particular and particularly with school holidays coming up, might be able to benefit from that travel.
"So, I think we've got to keep the issue in perspective."
Health Update
Chief Medical Officer Brendan Murphy:
"An interesting statistic, there are only two people left on ventilators in Australia, a long way short of the 7,000 potential that we catered for in the worse-case scenario.
"We are doing 30,000 tests a day with a very low positivity rate of 0.05 per cent at the moment.
"We would still like to do more tests. We would like every person with an acute respiratory problem, cough, cold, to get tested. It is the way to track the virus.
"As the Prime Minister said, it is too early to draw definitive conclusions but we are on track. All the measures we thought should be stable and in good shape remain in good shape at the moment.
"But in two weeks, it's not possible to be absolutely sure – and we do need to watch the data over the next one to two weeks – to make sure that we're not getting more than the expected small outbreaks that we do expect to see as we relax restrictions.
"We've got to be sure that we're not going to get a number of outbreaks or outbreaks that are hard to control. We don't expect to get them, we expect to be able to control those outbreaks but at this stage we do need to be cautious about saying that the relaxation of restrictions hasn't had a deleterious public health effect.
"We don't think so but we must watch and be very careful."
In other news…
Victorians ordered to keep working from home
Victorian Premier Daniel Andrews has ordered anyone who has been working from home should continue doing so.
He says breaching this could lead to fines and there would be spot checks on businesses potentially breaking those rules.
He says staff could even ring up and dob in their employers for making them work from the office.
"If an office that had currently, say, 80 per cent of their staff working from home then say 'oh well, we'll just ignore the Chief Health Officer and we will have everybody come back Monday', then they would be in breach of the public health orders," Mr Andrews said.
NSW restrictions on weddings and funerals relaxed
NSW will ease coronavirus restrictions on religious services, weddings and funerals from Monday, when measures to increase pub and restaurant patronage come into effect.
From June 1, up to 20 people could attend weddings, 50 at funerals and 50 at places of worship. However, strict social distancing guidelines would continue to apply.
Government releases the latest greenhouse gas data
Today the Morrison government released the December 2019 quarterly update of Australia's National Greenhouse Gas Inventory.
In 2019, emissions fell 0.9% or 5.0m tonnes of carbon dioxide equivalent (Mt CO2-e) to 532.5 Mt CO2-e.
Emissions are now 13.7% below 2005 levels.
Emissions for the December quarter 2019 also fell 0.5% or 0.6 Mt CO2-e on the previous quarter, on a seasonally adjusted, weather normalised basis.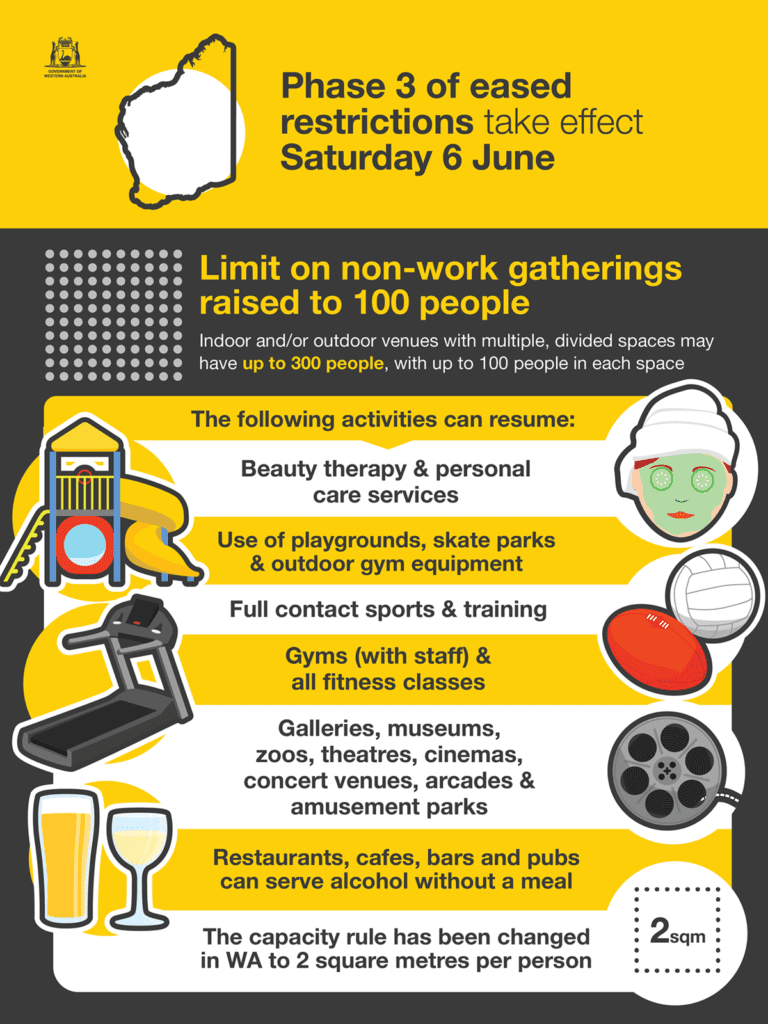 WA Update
Total confirmed cases: 585*
Active cases: 26
Increase in cases from previous day: 8
Patients recovered: 550
Deaths: 9
Total number of people tested: 83,318
*these figures are current as of today
—
BREAKING NEWS: Significant changes for WA announced
The WA Premier has just announced the details of Phase 3 of the roadmap for the easing of restrictions, with significant changes coming into effect on Saturday 6 June.
As part of Phase 3, the follow changes will occur:
Non-work indoor and outdoor gatherings of up to 100 people will be allowed, a five-fold increase from the current 20-person limit.
Up to 300 people will be allowed in some settings, including for indoor or outdoor venues with multiple, divided spaces, with up to 100 people in each space.
All food businesses and licensed premises can now operate with seated service only, and alcohol may now be served without a meal at licensed premises.
All beauty therapy and personal care services can reopen, including saunas and wellness centres.
Galleries, museums, theatres, auditoriums, cinemas and concert venues can reopen – with the 100/300 rule followed.
Perth Zoo will open, as can wildlife parks, amusement parks, arcades and indoor play centres.
Playgrounds, skate parks and outdoor gym equipment can reopen.
Gyms, health clubs, indoor sports centres will be able to offer the normal range of activities, including use of all gym equipment. However, Gyms will need to be staffed at all times and undertake regular cleaning.
Full contact sport and training will now be permitted in Western Australia. This will mean from next weekend, people of all ages will be able to start competitive contact sports.
Parents and guardians will be able to enter school grounds to drop off or pick up their children as part of Phase 3.
TABs are permitted to reopen. The Chief Health Officer will separately work with Crown Casino on how the gaming floor could reopen in the future.
As part of Phase 3, Western Australia will be the first State in the nation to remove the four square metre rule and instead implement a two square metre per person capacity rule for venues.
This will replace the four square metre rule, which is the current national position.
In addition, as part of Phase 3, Rottnest Island will reopen to the WA general public.
The Government will work towards further restrictions being eased as part of Phase 4 in coming weeks.
This will predominantly be focused on even larger gatherings, the new two square metre rule and some of the other existing restrictions.
Intrastate borders open today (except Kimberley region)
From today, all regions of Western Australia will be reopened except for those under Commonwealth Biosecurity Area restrictions.
That means that travel will be permitted between the Pilbara, Gascoyne, North-West, Goldfields-Esperance, Wheatbelt, Great Southern, South West, Peel and Perth.
It's expected that until 5 June, people will need an exemption to enter the Kimberley region, parts of the East Pilbara and the Shire of Ngaanyatjarraku. The final date will be confirmed in consultation with the Federal Government.
Following this, travel to those areas will also be reopened – however restrictions on travel to remote Aboriginal communities will remain in place pending further consultation.
Changes to G2G Pass
With relaxation of WA's regional travel restrictions coming into effect today, the G2G Pass system has been updated to remove the ability for companies to bulk upload and/or bulk remove personnel.
Moving forward, all persons travelling into WA (such as interstate FIFOs) will need to make individual applications via the G2G Pass website including all persons wishing to travel into a Commonwealth Biosecurity Region (until June 5, 2020).
If your company needs to remove an existing approved interstate FIFO from G2G Pass, please email the individual's details to G2GWA@police.wa.gov.au.
State Recovery Plan
The Government has announced Sharyn O'Neill, the Public Sector Commissioner, will have oversight of the development and coordination of the recovery process as State Recovery Controller.
A draft Impact Statement will be released shortly to address each of the State's recovery areas – health, economic and infrastructure, social, industry and regional WA.
The State Recovery Advisory Group has also been formally announced. It will include representatives from business industry, not-for-profit organisations, trade unions, the public sector, local government and the community.
Complementing this, state government ministers will invite key stakeholders to a series of ministerial round tables. Some will be existing ministerial forums while others will be newly convened covering the areas of:
health services;
mental health;
vulnerable people and the community sector;
youth; women; older people and seniors;
Aboriginal people and remote communities;
housing and construction;
culture and arts;
local government and leadership;
the resources sector;
tourism and hospitality;
regional communities;
food and primary industries;
transport and logistics; and
skills, training and workforce, and international education
Roundtables will be coordinated by the Department of the Premier and Cabinet (DPC) and will each include the relevant Ministers and agency Directors General and key stakeholders.
WA to ease hospital visitor restrictions
Restrictions on visiting hours at WA hospitals will be partially eased next Tuesday, with two people allowed to visit instead of just the one.
Health Minister Roger Cook said physical distancing throughout all locations remained critically important and encouraged visitors to practice good personal hygiene.
"Connection with family and loved ones during time of illness is so important and we want to make sure that we are doing everything we can to ensure that patients have the support they need whilst in hospital," Mr Cook said.
Visitor restrictions for confirmed and suspected COVID-19 patients would remain in place at all public hospitals.
International Update
Total global confirmed cases: 5,808,946
Total global confirmed recoveries: 2,415,960
Total global confirmed deaths: 360,289*
**Current as at 11am.
US
At least 2.1 million Americans lost their job in the past week despite the reopening of businesses around the country, provoking fears of a prolonged economic downturn.
More than 41 million Americans who have now filed for unemployment benefits since the coronavirus shutdowns took hold in mid-March.
The US unemployment rate was 14.7% in April, a level not seen since the Depression, and many economists expect it will be near 20% in May.
The figures come amid an intensifying debate in Congress over whether to extend $600 in extra weekly federal unemployment benefits, provided under rescue legislation passed in March but set to expire July 31.
Europe
France will allow bars, cafes and restaurants to reopen from June 2, but more restrictions will remain in the capital of Paris than elsewhere. The government is also lifting a country-wide 100 km travel restriction and will reopen beaches and parks from next week. More than 28,500 people have died of COVID-19 in France. On Wednesday the death toll rose by less than 100 for the seventh day running.
Italy is also looking at easing travel restrictions, allowing people to travel between regions and removing mandatory quarantine requirements for arrivals by June 3. The northern region of Lombardy is unnerving some politicians, with the region diagnosing 382 coronavirus cases in the most recent update, compared to under 100 in other regions. Across the nation, there were 70 deaths in the 24-hour period ending last night, raising the nation's overall known death toll to 33,142. Italy has logged 231,732 known cases of COVID-19.
UK
Boris Johnson has loosened the British lockdown with a surprise announcement to allow barbecues for up to six people.
In a significant easing of coronavirus measures, the British prime minister said small gatherings were permitted outdoors and in private gardens. Until now, people were only allowed to meet one other person in a park.
The new rules come into place on Monday, but immediately after the announcement on Thursday, small gatherings started up in various suburban backyards.
Shops will be allowed to open on June 15, while some schools will open on a staggered basis from Monday.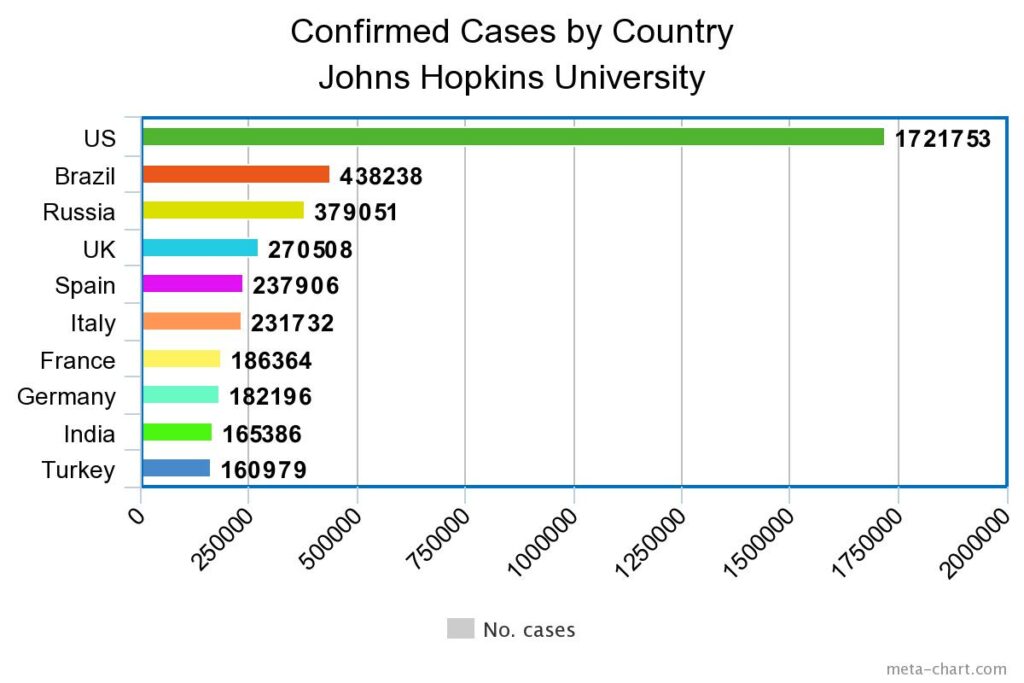 COVID WA Helpline: 1800 020 080
For the latest official updates on COVID-19 please visit https://www.australia.gov.au/ and https://www.health.gov.au
For information on mental health support please visit https://www.lifeline.org.au/ or call 13 43 57