Discovery – Environment
Federal Government unveils low emissions technology roadmap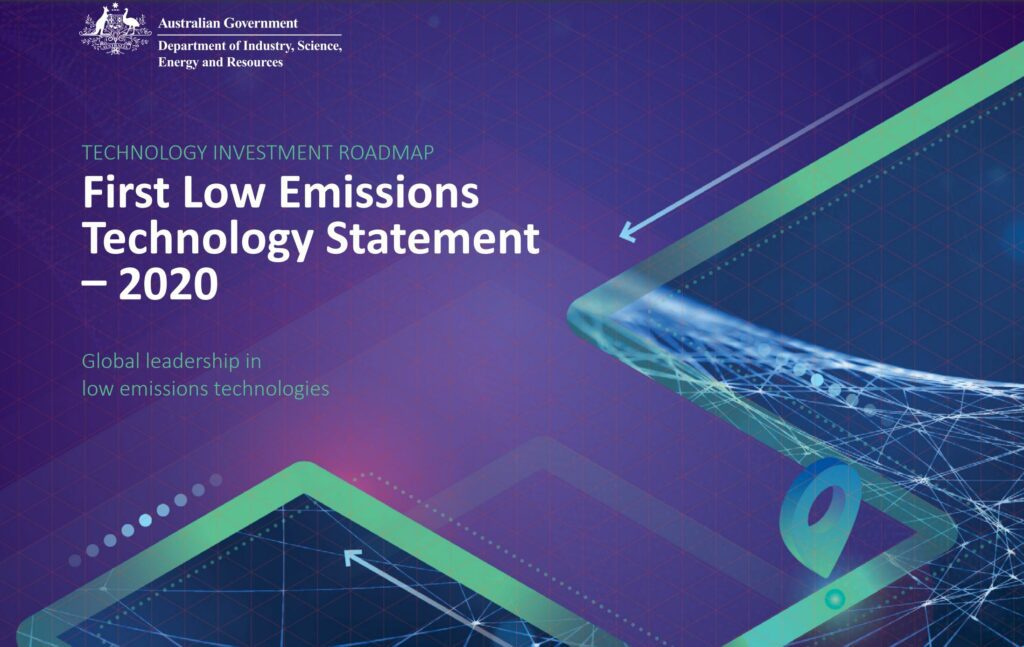 ---
Low emissions technology roadmap and statement announced 
On 17 September, the Morrison Government announced a $1.9 billion investment package for future low emissions technologies development. The package includes:
$1.62 billion for the Australian Renewable Energy Agency (ARENA), including $1.43 billion baseline over 10 years
$95.4 million for new Technology Co-Investment Fund (recommended by the King Review), to support agriculture, manufacturing, industrial and transport sectors to adopt technologies that increase productivity and reduce emissions
$50 million investment in the Carbon Capture Use and Storage Development Fund
$74.5 million for new Future Fuels Fund, to take advantage of opportunities offered by hydrogen, electric, and bio-fuelled vehicles
$67 million for new microgrids in regional and remote communities
$52.2 million to increase energy productivity in homes and businesses
$70.2 million to support a grants program for hydrogen industry development, including setting up a hydrogen export hub (a key part of Australia's National Hydrogen Strategy), research collaborations and international supply chain studies
$24.6 million to reduce time taken to develop new Emissions Reduction Fund (ERF) methods from 24 months to less than 12 months, involving industry in a co-design process
Develop an offshore clean energy project development framework, and work to improve energy and emissions data reporting to support the delivery of future Low Emissions Technology Statements, together worth $40.2 million
The mandate of ARENA and the Clean Energy Finance Corporation (CEFC) will be revised to include new low-emissions technologies, such as carbon capture and storage, soil-carbon sequestration, and green-steel production.
On 22 September, the Australian Government's first Low Emissions Technology Statement was released. The Statement sets out five priority technologies and associated economic stretch goals:
Hydrogen production at less than $2 per kilogram
Long duration energy storage (6-8 hours or more) dispatched at less than $100 per megawatt hour
Low carbon materials: Low emissions steel produced at less than $900 per tonne, and low emissions aluminium produced at less than $2,700 per tonne
Carbon capture and storage (carbon dioxide (CO2) compression, hub transport and storage) at less than $20 per tonne CO2
Soil carbon measurement at less than $3 per hectare per year.
Following the announcement of the Statement, the Australian Government will now commence a set of key actions including:
Establishment of a Technology Investment Framework 
Commencement of a soil carbon innovation challenge 
Introduction of legislative amendments to ARENA and the CEFC 
Establishment of a Technology Investment Advisory Council.