Alcoa partners to protect local waterways
Overview
Alcoa funds three on-ground and in-water environmental projects across the Peel-Harvey catchment.
Results
In consultation with community, the three projects will assist in improving the health of the catchment, reversing habitat loss and integrating large scale restoration of the catchment's fragmented landscape.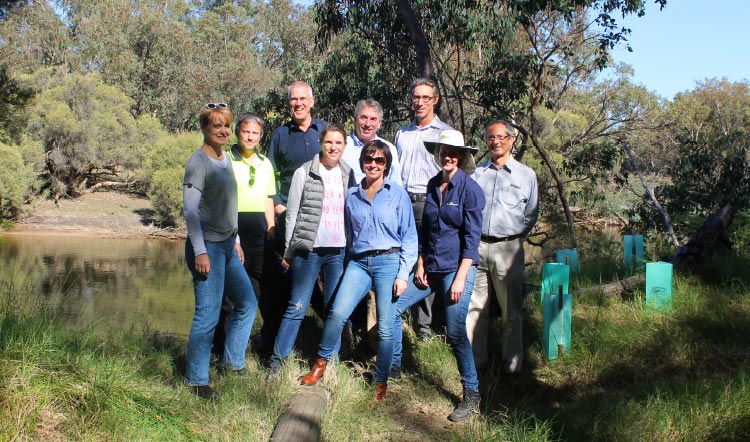 Alcoa, through the Alcoa Foundation, is funding a multiagency and community vision, "Three Rivers, One Estuary", to protect and improve the condition of three rivers (Serpentine, Murray and Harvey) that discharge into the Peel-Harvey Estuary and Peel-Yagorup Ramsar System. The wetland systems are internationally recognised as significant under the Ramsar Convention, an international treaty for wetland conservation and sustainable use.
The vision combines three separate but complementary projects, including: Greening Australia's "The Three Rivers Initiative", The Nature Conservancy's 'Revitalising the Peel-Harvey Estuary through nature-based solutions', and
Peel-Harvey Catchment Council's (PHCC) 'Connecting corridors and communities, restoring the Serpentine River'.
Alcoa Chairman and Managing Director, Michael Parker said "By working together, we can ensure the ongoing health of these waterways, which are the lifeblood of our communities not only from an environmental perspective but also socially and economically."
"Collaborations like Three Rivers – One Estuary allow for a big vision and great success as we tap into the strengths of individual initiatives and create synergy for an even greater purpose."
"Our hope is that other environmental and land management groups, governments at all levels, and the broader community continue to get behind these three highly-respected environmental organisations and initiatives. There are plenty of opportunities for us all to roll up our sleeves and help make an even bigger difference together."
The Nature Conservancy Australia, Marine Manager, Dr Chris Gillies said "Our local and international experts will work with the community to discuss the latest restoration methods for improving fisheries, reducing nutrient runoff and protecting shorelines against sea level rise and flooding."
PHCC Chairman, Andy Gulliver said there will be opportunities for local communities to participate in on-ground works to improve the health of the Serpentine River.
Alcoa has been in a continuous partnership with Greening Australia for 35 years.